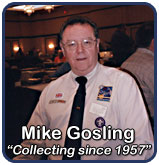 Welcome
SIGMAH has many years experience in selling and appraising Scouting / Guiding memorabilia.
SIGMAH offers the following goods and services
Sales lists
Lists of the items we have available are updated regularly and published on this site.
Click here to see our current sales lists.
In addition to the items offered through this web site, we frequently hold auctions on eBay.
Click here to view the items I currently have listed on eBay.
Valuation
We can estimate the value of single items or whole collections for insurance or probate purposes.
Authentication
Items can be identified and their authenticity checked. We are also able to provide you with other information regarding the items such as their age, origin and purpose.
Badge Search
Having trouble finding a rare badge? Let us know what you are looking for and we will do our best to find it for you.
We are always interested in purchasing Scout or Guide badges and memorabilia, single items or a whole collection. If you require more information please don't hesitate to get in contact.